Water park for all ages
The outdoor water park at the campsite is popular among all ages. If you love splashing in the water, fun and water slides, you will not be disappointed. The swimming pool is heated with solar energy, and thus warmer than the air.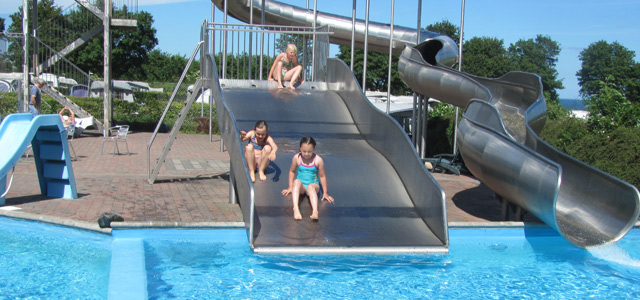 Water Park
The landmark of the water park is an 8 metre high and 50 metre long water slide, which can give most people an adrenaline rush, but there is also a surf hill, a counterflow, as well as bubble and water jets.
The youngest children will love the small pool with warmer water and a mini water slide.

You also find sauna, jacuzzi and steam bath in the indoor part of the water park.
The water park is open from 27th May - 17th September 2023.
Tariff: Campsite guests: DKK 15 per entrance, no time limit. Card with 10 entrances DKK 100.
Guests from outside can buy tickets in the reception for DKK 85 per visit.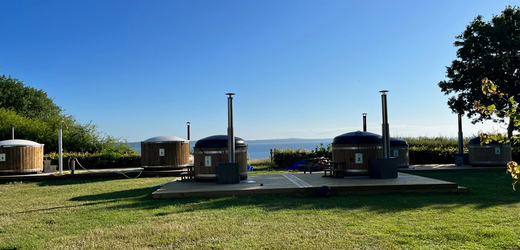 Outdoor Hot Tub
A unique experience

There is something quite unique in an outdoor bath, and when you can bathe in a hot tub with a view of Vejle Fiord, what could be better. The hot tub is wood fired and at 38 degrees Celcius the water is ready. There is room for 6 people in a tub.
1 days rent DKK 750
Sauna
As an extension to our water park, you also can enjoy the heat in our sauna before or after a dip in the large pool. Relax and pamper your body with the warmth and enjoy the scent of wood. Pure conditioner for both body and soul.