Tarifs
At DANCAMPS Hampen, we offer spacious pitches, a lovely relaxed atmosphere in natural surroundings, and a central location in the middle of Jutland. Enjoy your camping holiday in a unique nature and with access to great camping facilities.
Site Map and facilities
Pitches for caravans, motorhomes and tents have electric hook-up (10A)
In the sanitary blocs, you have access to a communal kitchen with hot plates, oven, microwave oven, coffee machine, and electric kettle. It is also possible to clean your freshly caught fish, and to enjoy your meals or a coffee in the sitting area. Nice bathroom facilities and toilets, as well as baby changing facilities and a bathroom for disabled guests. You have free access to all these facilities.
DANCAMPS Hampen is also equipped with a dog shower, a washing machine and a drier.
Reception with self-service check-in via key-boxes.
Book online, or contact us at +45 7552 1482, or by e-mail at This email address is being protected from spambots. You need JavaScript enabled to view it.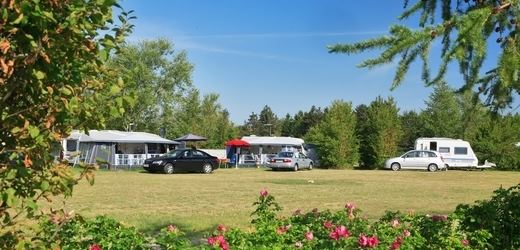 General Information
On the day of departure, you must leave and pay by 12 o'clock noon. Late departure by 16:00 during the low season is possible on request, and without extra fees.
Free access to hot water in the kitchen and shower, as well as free access to communal kitchen facilities with hot plates, ovens and microwave ovens.